Penfield Family

Penfield Family Genealogy
July 2015 Edition
---
This Web genealogy includes descendants of Samuel Penfield (1652/1653–1711), who is believed to be the first Penfield born in North America. He was born in Lynn, Massachusetts, and in 1675 married Mary Lewis of Charlestown, Massachusetts (1653–1742, granddaughter of 1631 immigrant Abraham Browne who settled in Watertown, Massachusetts). Their ten children, 5 boys and 5 girls, all grew to maturity. In 1679 they moved to Rehoboth, MA, then to Bristol, RI (part of the Plymouth Colony at that time), and finally in 1708 to Guilford, CT. Later generations of Penfields have followed suit, moving to all parts of the United States and other countries. The early Penfields must have been a hardy bunch, and married strong people, judging from the size of the families and the success rate of children growing up to have families of their own. There are lots of descendants to list.
Primary Source
Here is the source of most of the information in this Web genealogy: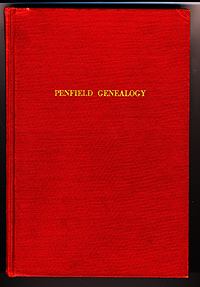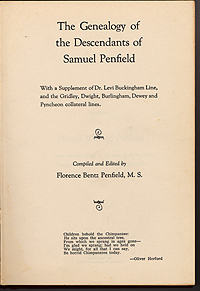 This 321-page book reports the diligent research of Harold William Penfield (1889–1955) and his wife Florence Bentz Penfield (1895–1980), done over many years and published by her after his death. The book has no publication date, but the most recent event seems to be 1965. A few Penfields in the 12th generation are listed. A reprint of the book can be ordered from Higginson Book Company. The book, being out of print and in the public domain, has been scanned by Google and can be accessed online here, courtesy of HathiTrust.
In this Web genealogy some recent information is included, and some errors corrected, but no attempt was made to bring this work up to date in a comprehensive way. As of February, 2012 all 2,659 Penfields listed or mentioned in the book have been entered into this Web genealogy. Since that time, additional information, much of it from the Web, has been added, and many original sources have been entered. This process will continue as time permits.
Other Sources
Mary Penfield (generation 2) married Jeremiah Fairbanks. Much of the information about their descendants came from the extensive (more than 18,000 entries) Web site Fairbanks and Keester maintained by Jack Keester, and more from Descendants of Henry Lawrence by Brian Muller. The even more extensive genealogy of Marilynn Munoz has many Penfields. The on-line genealogy maintained by the Thomas Minor Society shows many of his descendants who married Penfields. Data for some descendants of Elizabeth Penfield (generation 3) came from Don Parrish's Web site. Hannah Penfield (generation 2) married John Turner, Jr.; the extensive genealogy Hicks, Essex, & related families by Jack Hicks provided much information about her descendants. Hannah Penfield (generation 3) was the first of many early Penfields to marry Peltons; the Peter Pelton Family Web site maintained by Gary Garbe has many of these descendants. Many Penfields married Beardsleys and there is much information in the Descendants of William Hugh Beardsley maintained by Gail Josef. Use was made of data in the site Descendants Of Northern New York State Pioneer Godfrey Shew maintained by Pete Shew. Craig Ferguson's large family site includes many descendants of his ancestor Bethia Rose Penfield (generation 4). The Hayward Family History includes some Penfields in generation 9 that do not appear in the book. I want to thank the people who maintain those sites for their hard work and willingness to make their valuable information available to all.
Many people have submitted family trees to the "Ancestral File" database at the site familysearch.org where they have been combined so as to be very convenient. I have incorporated data here from many of these files, which are distinct from the large collection of historical files and relatively reliable, official records maintained at that site. All the Ancestral Files carry a warning that the material is contributed and has not been verified against reliable records, and that the contributors may or may not agree with how their contributions have been combined with others. Nevertheless, I have found this to be a useful resource and am grateful for it.
Others have contributed extensive "Pedigree Resource Files" to familysearch.org that are not changed after acceptance, assuring that the data contained, even if possibly inaccurate, will be permanently available. Again I have found this information very useful.
There are many other genealogy Web sites that contain data about various Penfields or Penfield descendants. Some of this data is accurate and some is doubtful. I have used some of it that seemed reliable and proved convenient. In addition, I have incorporated miscellaneous facts found from Google searches; examples include recent obituaries and news stories.
Many family members have told me about recent changes, including births, marriages, and deaths, and also recent scholarship about the early Penfields. I am grateful to Holly Bell for her research on Adnah Penfield which showed that several names in the book are inconsistent with newly found original sources.
Some of this work ends up in published books. Of particular note are Lyman (1927–2004) and Karen (1927–2003) Mower, who wrote a book Ancestry of Annie Frances Penfield (1853–1936) about his grandmother, available from Higginson Book Company. Part of this 720-page book covers Annie's line of descent from Samuel Penfield through six generations. Mr. Mower has generously supplied an excerpt from his book that covers this line, and allowed it to be mounted on this Web site. You can download it from here as a Microsoft Word document (1.3 MB). The careful research that went into this new book revealed several minor errors in the Florence Bentz Penfield book, and also one apparent case of mistaken identity in generation 2 (Sam Jr.'s wife was Hannah Fry, not Hannah Shepard).
Another book that covers one branch of the family is Penfields & Esteps by Gwen (Beran) Bohlen, which she calls "a tale of two colonial families and their part in the settling of the west" written "in memory of four pioneering women of the west," namely Caroline Chandler (1805–1899), Lydia Jane Hays (1830–1857), Ann Caroline Penfield (1853–1907), and Ann's mother-in-law Sevilla Smith Estep (1815–1901). This 122-page book was privately printed in 2008.
In addition, I want to thank the following who supplied data which I have used:
Judy Ballantyne
Dan Bateham
Amy (Penfield) Bohrmann
Martha Casassa
Steve Clark
Carl M. Cook
Vicki Cooper
Barbara Cunningham
Cynthia (Stevens) Downing
Catherine Emery
Florence V. (Post) Frey
William P. Gainey
William P. Gamble
Sharon (Steele) Herrell
Natalie Hughes

Adrienne Inglis
Jennifer Lee-Penfield
John Lisle
Gary Lee Miller
James R. Miller
Koreen Miller
Natasha Moiseyev
Linda Nickel
George K. Nutz
Joan Obe
David Paulson
Darren Penfield
Edward Jay Penfield
Kimberly Ann Penfield
Patrick C. Penfield

Paul Andrew Penfield
Peter French Penfield
Robert Allen Penfield
Susan D. Penfield
Thomas D. Penfield
Beverly "Polly" (Scherrer) Pulver
Linda Mac Risdon
Patricia Rodgers
Emily (Ament) Starr
Susan B. Strange
Shannon (Butler) Tinnin
Lisa (Penfield) Tobiason
Julie Logue Turley
Sue Turner
Brenda (Black) Watson
Coverage
There are 2,659 Penfields listed or mentioned in the Florence Bentz Penfield book, along with many others who either married into the family or are related to those who did. All 2,659 have been entered on this Web site.
Most Penfields are listed in this book by generation, with Samuel Penfield considered as generation 1. However, 68 of them are called "unidentified" meaning they are either not descendants of Samuel or their place in that family tree is not known. They are descended from three different Penfields: Francis Penfield, John Penfield, and Frederick Penfield. In this Web site they are considered to be in three different "Minor Lines" (the line headed by Samuel Penfield is the "Major Line"). Perhaps further research will establish connections between all these lines.
Other Penfields, not in any of these lines, do not appear in the book at all. As discovered, they will be put into the Web genealogy and, when enough are connected together, will be deemed to constitute new lines. The first two such are "Minor Line 4" consisting of Pompey Penfield and his descendants, and "Minor Line 5" consisting of William B. Penfield and his descendants.
Like most genealogies, this book deals primarily with those who are born with the Penfield surname. Descendants of female Penfields are not included, other than by a brief mention, seldom more than one generation deep. Somehow this does not seem fair, so this Web genealogy departs from this convention and has as its intended domain Samuel and Mary and all their descendants with their spouses. Needless to say, this expands the genealogy to lots more people, many yet to be included. I will add more as interest becomes evident and time permits.
This Web site displays people in family units, so the couple, their data, their children, and their parents can be seen together. Some people are in more than one family page, depending on how many spouses they had over the years. There are also pages for spouses of descendants with other spouses, including some data about step-children of descendants and about spouses of spouses. But that is where the line is drawn—you will not find anything here about spouses-of-spouses-of-spouses or descendants of step-children (I hope you can follow that). And speaking of spouses, please understand that the term is used here in a broad way to include not only legal marriage but also other arrangements that could result in creation (or adoption) of children. The site accommodates evolving societal norms about families, such as civil unions and same-sex marriages (yes, there is one here).
Generation,
Major Line
Penfields
in book
Penfields
in this site
Penfields and descendants in this site
without spouses
including spouses
1
1

pp. 1-2

1
1
2
2
10

2-11, pp. 2-4

10
10
20
3
16

12-27, pp. 4-7

16
44
77
4
60

28-87, pp. 8-17

60
153
255
5
135 88-220, pp. 17-37
87A
in-law in 189
135
422
675
6
342

221-562, pp. 37-84

343
930
1504
7
545 563-1100, pp. 84-143
6 after 403
890a
553
1538
2343
8
539 1101-1635, pp. 143-196
twin in 1457
2 after 1498
mention in 964
after 1391?
549
1730
2594
9
451

1636-2086, pp. 196-233

472
1610
2463
10
321 2087-2399, pp. 233-256
after 2229
2 in 1724
2 in 1725
3 in 1911
363
1380
2001
11
152 2400-2545, pp. 256-264
2416a
3 in 2308
2 in 2234
243
1014
1453
12
19 2546-2563, pp. 265-266
1 in 2498
90
631
814
13
0
20
214
236
14
0
3
29
29
15
0
0
0
0
Major Line
2591
2858
9706
14466
Minor Line 1
42

pp. 302-304

57
75
107
Minor Line 2
14

p. 304

15
25
35
Minor Line 3
12

p. 305

17
23
39
Minor Line 4
29
64
87
Minor Line 5
54
133
200
Total
2659
3030
10026
14934
Statistics, Penfield Family Genealogy, July 2015 Edition
Don't Blame Me
You may find errors here. Don't be surprised. The Florence Bentz Penfield book has many minor errors (including the spelling of my name). Original sources are often hard to read for various reasons. Record keeping was not always taken as seriously as it is now, and records have not always survived. The same person's name might have been spelled differently by different people or at different times. Some genealogists are more careful than others. The Web is full of genealogical data based on inadequate scholarship or speculative identifications.
Please keep in mind that I have not actually done much of the research reported here. What I have done is tell you what other people say, and I have tried to do that accurately. I have also corrected some minor errors, in some cases noting conflicting sources. Sometimes I have had to decide whom to believe, and occasionally included multiple interpretations.
You are free to use the information in this site as you wish, without charge. However, if you care about accuracy, you should independently verify all data against original or authoritative sources. And of course tell me if you find anything wrong.
Help Wanted
If you have information which would help fill out this genealogy, or if you discover an error, please let me know. The advantage of a Web genealogy is that errors can be expunged over time. I am Paul Livingstone Penfield, Jr., in the 10th generation, no. 2174 in the book (page 240), and you can send me email at <paul (at) penfield.fm>.
If you don't find your own branch of the family adequately represented, tell me what is missing. You'll have to tell me all the recent facts to include (full names of all descendants and spouses, including middle names, and birth, marriage, and death dates and, if known, places).
Privacy
Many Penfields in the ninth and later generations are alive today. To respect their privacy, this genealogy does not list by name or display information about any people born within the last 100 years without a death date. It calls them "Living male" or "Living female." (A few living people are listed by name because I do not know their birth dates. Please help by telling me any missing birth dates, and other missing data for that matter.)
Look Yourself Up
Because of this privacy policy you won't find your own name listed. I'm sure that you, like everyone else, want to see your name in print. But you can do the next best thing by locating your place in the family tree. Find one of your deceased ancestors, perhaps your grandfather, and then navigate through the pages. You won't have any trouble identifying your parents, siblings, aunts, uncles, and cousins even if they are only called "Living male" or "Living female."
---
A Personal Note
This project turned into one of special interest to me because Samuel Penfield's wife's grandfather, Abraham Browne, lived in Watertown, Massachusetts. Today I live in what was at that time part of Watertown. Abraham arrived in 1631, just one year after Watertown was founded, and rapidly became a community leader. He was a land surveyor and served several terms on the elected town board. He and other surveyors laid out roads and divided the land so all citizens could be given farms of equal value. However, some farms turned out to be more equal than others.
In 1638 it was decided that land near my present home should be divided into new farms for all citizens, and five prominent men, including Abraham Browne, were so ordered. When the schedule of lots was presented in 1642, it did not list several of the town leaders, including those who had been doing the surveying. The schedule did mention "farms laid out formerly" and apparently these were large in area, in nearby land well suited for farming, close to the road. And who do you think got those farms? Henry Bond, in the 1855 definitive history of early Watertown, listed them all (including Abraham Browne), and concluded that "the committee of Oct., 1638, to lay out the farm lands, was composed of persons here named and not contained in the schedule, and, that during three years and a half after their appointment, they seem to have laid out few besides their own farms." Twenty-five years later historian Samuel Adams Drake wrote that "The allotment committee seem to have provided farms for themselves and a few friends in advance of the general allotment of May, 1642."
This just shows that municipal corruption is not a recent invention.
---
Penfield Family home page | Search | Comments and inquiries