---
- 7 -
The Braisted Homestead
The Braisteds are our oldest Van Buren Bay family, but their story has some interesting twists and turns and some mystery, starting with the names and relationship of the original family members who settled here. In 1865, John Braisted and Rollin Braisted arrived in Hague and together purchased some property. In subsequent documents, the latter would be referred to as Rollin Isham or Rollin Braisted Isham. It has usually been assumed that John and Rollin were brothers, but John was forty-five years old and Rollin was nineteen when they arrived. John's wife was Olive Isham Braisted. And later in our story, there is reference the grave of "Mr. Isham," usually thought to be Olive's father, but why would Rollin take his name?

Hague Historical Museum
The Braisted Family 1903
John Braisted was born in Canada in 1820. He came to this country, became a citizen, and served in the Civil War. He arrived in Hague with his wife Olive and six children, Florence and Ellen born in 1849, Edwin born in 1857, John C. born in 1860, Adela born in 1862, and Rhoba, their last child, born in 1864. Rollin, who was unmarried when he arrived, was born in 1846 in Vermont. Later he married Rachel Howe from Horicon and they had three children, Charles, Forest, and Suzanne Adele.
The solution to the mystery is easy, if not immediately obvious. For both John and Olive, theirs was a second marriage, a fact confirmed by the census records for Schroon River in 1855, where they had been married that year. Ellen was John's daughter by his earlier marriage. Rollin and Florence were Olive's children. Rollin would have been nine when his mother remarried. Whether formally adopted or not he may have taken the Braisted name but also kept his father's name, Isham. In 1865 he would have been old enough to go into business with his stepfather. "Mr. Isham" was Olive's father-in-law, who came to live with the Braisted family after his wife died.[76]
John and Rollin purchased a large parcel of land, 144 acres, from William Marshall, who was Justice of Peace in Hague. They acquired all of Lot 96 of the Ellis Patent with the exception of a narrow strip on the northern boundary of the lot.[77] There are a number of additional transactions over the next few years. The deeds of sale are vague and confusing. Reference points are to trees, rocks, and neighbors' land. The same land seems occasionally to have been sold several times, requiring additional deeds of confirmation. At the same time, the deeds attempt to be very precise in certain regards. For example, on October 18, 1873, John and Olive Braisted, for $500, "granted, bargained, sold, conveyed, aliened, remised, released, enfoeffed, and confirmed" thirteen acres to William Burgess and his heirs and assignees forever. On one occasion, the Justice of Peace affirmed, in the deed, that he had met separately with Rachel Braisted to confirm that she agreed with the sale and was not being coerced by her husband Rollin.
To summarize these transactions: in 1871 John and Rollin divided their land, John selling Rollin, for $50, "all that piece and parcel of land . . . known and distinguished as being the south half of Lot 96, 52 acres more or less," and Rollin selling John, for $50, the north half of the lot.[78] This division may have taken place after Rollin and Rachel were married, and the house they built then may have been the original structure on the site of the present General Store, or possibly it was the same house now owned by Ralph and Julia Ketcham, which would make it the oldest existing house on the Bay. In 1873 Rollin and Rachel sold Lewis Burgess three acres, "beginning at a pine and white birch tree on the shore of Lake George at a small sand beach and swamp," a clear reference to Shawanapek, and in 1875 they sold him their remaining 48 acres. The 1880 census shows the family, parents and children, still living in Hague, but by 1892 they had moved away and we hear no more about them, except that Rachel is buried in the Adirondack Cemetery in Horicon near her original home.[79]
Meanwhile John and Olive had also sold off portions of their land to Burgess, a land speculator who owned a good deal of land on Split Rock Road. At one point John and Olive sold Burgess 13 acres for $500 and then rented it back from him for $35 a year. In 1876, they sold all their remaining land in the north half of Lot 96 to Burgess and bought back from him five acres of what had been Rollin's land, the small corner shown in the Brookdale Farm map of 1889. In that deed, John Braised was given control of "the grave where Mr. Isham is buried on the hill east of said maple trees near the bridge, said enclosure to be 13 feet square."[80] The gravesite was presumably on the hillside below the McFeely cottage.
---

Percy Penfield
Ed Braisted 1913
The five-acre plot of land remained in the Braisted family for many years. John, who may have had a house somewhere in the northern half of Lot 96, now built a new house on the Hague Road just opposite the entrance to Oneida Drive. This was the family home that was later enlarged to become the Braisted Hotel. Their oldest son Ed and youngest daughter Rhoby were never married and continued to live in that house until 1938, when Ed died and Rhoby moved away. John and Olive made provision for their sons. They gave a portion of their land to John C. in 1893. Ed inherited the remainder after his father's death in 1895, with the provision that he look after his mother Olive, "in health and in illness for the remainder of her natural life." She died in 1909 and is buried next to her husband in the cemetery at Hague.
No provision was made for the Braisted daughters. Florence, Ellen, and Addie married and moved away. Rhoby continued to live with Ed and her mother. In 1903, when she was almost forty, she turned over to Ed any residual claims she may have had in return for the right to live in the house as long as she remained single. He agreed to allow her all the privileges she had had prior to the agreement, the right to supervise all the household duties and look after the place with the same attention she had exercised in the past. In short, she agreed to care for him in the comfort to which he had become accustomed. He agreed to give her two hundred dollars.[81]
Sometime later they renovated the house and opened The Braisted House and Cottage. It was a summer hotel and could accommodate 25 guests. They offered "comfortable rooms with electric lights . . strictly home cooking, with home-made bread and pastry, maple syrup, plenty of good rich milk to drink, fresh eggs and vegetables brought to the house every day."[82] Ed was the proprietor, but Rhoby ran the show. Ed liked to fish and probably made a regular contribution to the hotel menu.[83]
When Ed died in 1938, he left his property in the hands of his executor in trust for his brother John and sister Rhoby. Rhoby went to live with her niece. In 1944, the hotel and annex, as well as a small cabin on the hill above known as Ed Braisted's barn, were sold to Mortimer Bowen, whose story we will tell later. In about 1945, the hotel burned to the ground and Bowen never rebuilt. In 1965, he sold the property to Thornton Penfield, Jr., who sold the annex to Ralph and Julia Ketcham while keeping the rest of the land and the cabin. Ralph and Julia met as emps at Silver Bay. They bought the Braisted annex in 1966 and have lived there since.

Hague Historical Museum
Braisted Hotel and Cottage 1935
---
Like his father before him, John C. Braisted was a skilled carpenter and house builder. He married Mary Peterson in 1884. They had three children, a daughter Ella and twin sons John H. (known as Jack) and James H, who also became house builders. John C.'s original home may be the house overlooking the General Store, occupied now by his grandson John and Betty Braisted, but in 1905 he built a new home, closer to the old family homestead, which we know now as the Sharp cottage.
That house has had an interesting history. When the new state highway was constructed in 1927, it would have come right through the middle of the house, so the house was picked up and moved a few feet to the east, though even then the back half of it was lost. The hollow in which it rests was artificially created when the roadbed was raised some twenty feet or more. Ella Braisted and Leroy Whitford were married in that house in 1908 and lived there from 1919 to 1943, raising a large family of seven children. The house passed on to several other families before Richard and Mary Sharp acquired it in 1972.
The new state highway also threatened the home of James H. and Helen Braisted, just to the north, the house possibly built by his father or earlier by Rollin Braisted. While not in the direct course of the highway, it too would have been left twenty feet down in a hollow below the road. So in 1927, James tore down that house and constructed a new building, which we know as the Silver Bay General Store. The Silver Bay Post Office, which had started out in the store at the Silver Bay Association and had sojourned in the Braisted House annex, was moved to the new store for a time. The store has passed through many hands: Jack and Florence Carney, Francis Witherby, William and Anne Boyd,[84] Fred and Dottie Sain, and Sal Santaniello. With Sal's marriage to Kathy, the store came back to the Braisted family.
To the north of the store is the house that Jack built. Jack and Lillian Braisted lived in that house for some years before selling it to Burton and Helena Fish. Burton Fish worked for the Paines, and after he died, Lena took in boarders, including Spear Johnson for a time. Joe and Cynthia McCranells bought the house in the mid nineteen-seventies. Joe was a life long YMCA secretary and worked for many years at Silver Bay in various capacities including assistant director. They owned the property for almost 25 years before selling it in 2001 to the McFeely family.
Sal and Kathy Santaniello live in the second house overlooking the store. It was also built by Kathy's grandfather James Braisted, though the Santaniellos have renovated it and changed its appearance. Kathy's brother James W. Braisted built his house close by on Terrace Road. He lives there now with his wife Erika and family.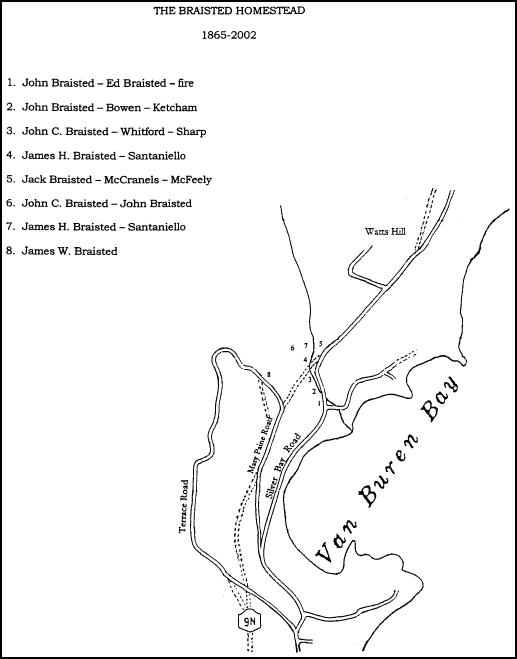 ---
Footnotes, Chapter 7
[76] See Appendix II for more on the Braisted and Isham families.
[77] Warren County registry of Deeds, Book 12, page 215. The deed here describes the property as 144 acres more or less, though later deeds refer to half the property as 52 acres more or less.
[78] Warren County Registry of Deeds, Book 25, Page 86.
[79] She is buried next to two infant sons, Freddie and Albert, who died before Charles, Forest, and Suzanne were born, while the family was still living in Hague.
[80] Warren County Registry of Deeds, Book 31, Page 417.
[81] Warren County Record of Deeds, Book 117, Page 553.
[82] Braisted House and Cottage brochure, c. 1930, courtesy of Mary Sharp.
[83] See Appendix III for additional details on Ed Braisted's property.
[84] The Boyds had served as chauffer and housekeeper to the Stewarts at the Glen Cottage.

---
Contents | Previous | Next || Penfield Family | Search | Comments and inquiries