---
- 5 -
Saints' Roost
Benjamin Van Buren's farm, and so also the Paine lands, extended from the lake up to the cliffs of Sunrise Mountain. By 1906, the Paines had sold most of that land, including the area up on the mountain, west of what is now Route 9N. The upper hillside soon became known as Saints' Roost, for reasons that will become clear. To provide access to this property, the Paines built a road that started just opposite the entrance to Paine Hall, ran up past the Fundenberg cottage to what we know now as Terrace Road, circled around to the north and returned by what we know as Paine Road.[55]
The first saints of Saints' Roost were all associated with the Silver Bay Association or the YMCA. Luther and Eva Wishard had been among the first to purchase land, a large plot that extended from the Silver Bay Road to up to Terrace Road. Charles Vickrey, a close associate of Wishard and Taylor and secretary of the Young People's Missionary Movement, bought a plot just west of Paine Road. Harlan Beach, a leader in the Forward Movement of the Congregational Church and educational secretary of the Student Volunteer Movement, who helped Wishard plan the first missionary conference at Silver Bay in 1901,[56] bought land next to Vickrey's. Fred S. Goodman, one of the leaders of the first training Institute for YMCA secretaries in 1902 and later principal of the Eastern Association School, bought property higher up on Terrace Road.[57] His colleague, Alfred H. Whitford, an instructor in the YMCA summer school, bought the adjacent land to the north. David McConaughy, a pioneer YMCA secretary in India, the founder of the first YMCA in Madras, bought two lots north of the Whitfords.[58] William Millar, of the Army-Navy branch of the Y, added several additional lots to his holdings, and James W. Raine bought the last, most northerly lot on Terrace Road.
---
There have been a number of changes since then, of course, and some came fairly quickly. In 1912, William H. and Edna Ball purchased one of David McConaughy's lots, with the beautiful Adirondack camp that he had built there. Ball was a YMCA secretary and served on the faculty of the Silver Bay summer school. In 1939, he and Edna transferred title to the property to the Sunrise Mountain Club, made up now of members of their family to the third, fourth, and fifth generation. The Balls are one of our oldest Van Buren Bay families.
Augustus A. Thompson, who had first come to Silver Bay to visit friends at the Association, purchased the second McConaughy cottage, next to the Balls, in 1915. He died in 1950, but his wife Gertrude continued to summer at the cottage. Neighbors remember that well into her eighties she was still walking Terrace Road and negotiating the Porcupine Trail through the woods and down to the General Store. The property has stayed in the family and is presently owned by Elbert Thompson.
In 1916, Dr. Donald C. Knowlton purchased James Raine's lot at the north end of Terrace Road and built a small cottage there where the family spent many summers. The Geacintovs, Cyril and Tamara, rented the house for almost ten years before buying it in 1972. Earlier, as newlyweds, they had discovered Silver Bay while driving up to Roger's Rock on a camping trip. Cyril Geacintov gave the property to his daughter Elizabeth and her husband Alexander Guest in 1992. They have just completed a major renovation, preserving the old place and its memories for the generations to come.
While his parents were still living and using the upper cottage, their son Donald B. Knowlton and his wife Elise built a second house on the property in 1945 just below the first. It was originally a Sears kit house, though over the years Don added on to it. Don passed away in 1978, followed by Elise just two years later. Shirley Floyd bought the property in 1981 and spends summer there with her family now.
Charles Vickery never built on his lot on Paine Road. A spring on the property served the needs, for a time, of several neighbors, who now own the land. In 1919, Russell Carter purchased Harlan Beach's adjacent property. Whether he bought or built the cottage is not clear, but he held it until 1963 when he sold it to the Conants. Unfortunately that cottage was a victim of Hurricane Floyd in the fall of 1999. Ted and Wini Conant are presently building a new house on the site.
Just to the south of the Conants' place is the home of John and Mary Ellen Pariseau. Back in 1906 John Davis owned the land, which he had purchased from Silas and Mary Paine. His own cottage was just across Paine Road. In those days, much of the land had been cleared of trees and Davis used it in the summer as a pasture for his cows. It is hard to believe that they prospered on that stony slope. Pen Davis inherited the property and gave it to his sister Lois and her husband Don Stevenson, who built a very modest camp there. Dr. Jim Kim and his wife Yeung owned the property for some years and enlarged the house. The Pariseaus purchased the property in 1989.
---
The last two of the original families who had purchased property on Saints' Roost before 1906 stayed for a longer time and put down deeper roots. Fred and Mary Jeanette Goodman bought their land in 1902 and put up a charming rustic camp. Fred's responsibilities at the YMCA training school grew and the family returned to Silver Bay every summer. They had four children, including Elizabeth and Livingston Todd, who are part of our story.

from Memories of Silver Bay
The Goodman Cottage 1913
The story is told that Elizabeth one day was boating down on Van Buren Bay when her canoe overturned and she was tossed into the water. Silas Paine's great-nephew Ralph Johnson was visiting at the time and happened to be fishing down at their boathouse when he observed the accident. He immediately dove in and swam to rescue the drowning maiden. Elizabeth was a college athlete and excellent swimmer, but she allowed herself to be saved. When Ralph discovered what he had caught, he decided she was a keeper -- though who caught whom is not entirely clear -- and shortly thereafter they were married.[59]
In 1918 Ralph and Elizabeth Johnson acquired land just west of Paine Road, below the Goodman cottage, which had belonged to Luther Wishard and then Walter Fundenberg, and put up the house which had been moved over the ice from Tower Point.[60] The Johnsons lived there for many years, adding more rooms as the family grew. They, like the Millars, just dodged the bullet when the new highway was put through a few feet from their back door. In 1951 they sold the house to Weston and Elizabeth Conant. It now belongs to their daughter Joyce and Dennis Buchanan.
The new highway did cut the Johnsons' property in half, leaving an undeveloped plot of land across the road. Walter and Lesley Hertel acquired that land in 1971 and put up a cottage there in 1982. They have now sold it, in 2002, to John Trigilio and Elizabeth Ciambrone.
Todd Goodman, like his father and brother Robert, was a lifelong YMCA secretary. He and his wife Maybel inherited the Goodman property on Terrace Road and kept it until Henry and Ann Geils bought the house in 1974. They call their place Chipwood. They, too, have a solid claim to the tradition. Hank's father was an emp at Silver Bay in 1916 and Ann's mother attended a college conference there at about the same time.
The Geils family also owned the Alfred Whitford property next door for a time. The Whitfords built their cottage in about 1906 and were summer residents there, while they were active at the Silver Bay Association, until the late 1930's, when they sold it to Erna Humburg, Hank Geils' aunt. Hank and Ann bought the cottage in 1962 and sold it to Ted and Shirley Halliday in 1974. The Hallidays call their beautiful retreat in the wood Ultimate Folly, but few would agree with that assessment.
---
In 1921, Dr. E.H.T. and Mary Foster bought the old Wishard cottage, Bonnie Doon, which had been purchased earlier by Walter Fundenberg. Dr. Foster had come to Silver Bay as early as 1910, when he served on the faculty of the Summer School of Physical Training, teaching gymnastics. Later he became a trustee of the Silver Bay Association and was executive secretary of the Industrial Relations Council. Mary Foster continued summering at the cottage, now called Wood Acres, until her death in 1973. Janet Foster Griffin inherited the cottage and is passing it on to the next generation, Nancy and Dale Bryant and Carol Ballou.
Family lore, as reported by Nancy, may sound a familiar ring for other old time Van Buren Bay residents. Her mother Janet Griffin remembered that the family would travel up from New York by train, having bought a summer's worth of dried goods from Macy's basement. At Lake George Village, they would take the boat to the Silver Bay landing, where Louis Spelman would meet them with a wagon and haul all of them and their belongings up to Terrace Road. Janet said that as children, she and her siblings would walk down to the farm, perhaps the Paine's, to get fresh produce and eggs. Nancy's grandmother Mary was the matriarch and had a reputation for getting what she wanted. When the iceman delivered to Terrace Road,[61] she would always demand that he give her a larger piece of ice than would fit in her ice box. After an argument, he would comply. Then she would insist that he cut the block down to a size that would fit. She would then use the chips to make ice cream.
A few years after the Fosters purchased their property, Mary's brother Raymond Rickets was able to buy the land next to it, to the south. He built a house there, but unfortunately it burned to the ground at the end of that first year in another fireplace accident, and he never rebuilt. In 1953, he and his wife Mary sold the land to his nephew Ken and Margaret Foster. The offending fireplace was still standing. Their daughter Ellen remembers camping on that site for many years, in a tent on a platform. They cooked in the fireplace; a hole in the ground and a block of ice served as their refrigerator. The present cottage was built in the late 1950's, Ken himself doing much of the wiring and interior work.[62] The property is now owned by Ken and Margaret's daughters, Ellen Long and Jean Hudson.

Percy Penfield
Tenting on Van Buren Bay 1913

Percy Penfield
Hike to Mud Pond 1916

Percy Penfield
On Van Buren Bay 1921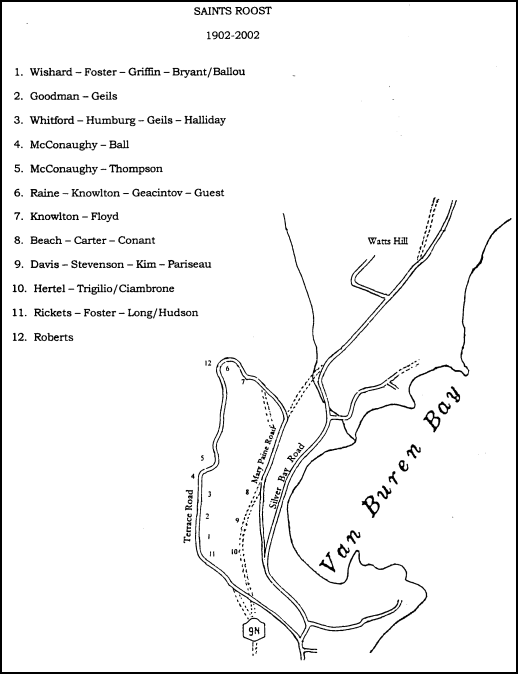 ---
Footnotes, Chapter 5
[55] See the map in Chapter 4.
[56] This was a Congregational Church conference. At the close of this successful endeavor, Wishard resigned from the American Board (Congregational) and devoted himself to interdenominational missionary work through the YMCA. The first YMCA sponsored conference at Silver Bay was Michener's effort in 1902.
[57] Mary Paine sold Mary Jeanette Goodman two and a quarter acres for $90. Warren County Record of Deeds, Book 95, page 57.
[58] In his autobiography, Pioneering With Christ, McConaughy writes of having several Silver Bay personalities visit him in Madras: Luther Wishard, Wilbert White, B.R. Barber, and John R. Mott, though this was before the SBA was established.
[59] Thanks to Spear Johnson for this story.
[60] See pages 20 and 38.
[61] Spear Johnson remembers that as a child he sometimes accompanied Irving Spelman, Louis' oldest son, on his rounds when he delivered milk and ice to cottagers around Van Buren Bay.
[62] Ken was for many years the engineer and manager of the Terrace Water Company, to be described later. He had meters and controls right in the house where he could monitor the whole system.

---
Contents | Previous | Next || Penfield Family | Search | Comments and inquiries